Tuition Assistance Program Spotlight: Nichole B., Personal Lines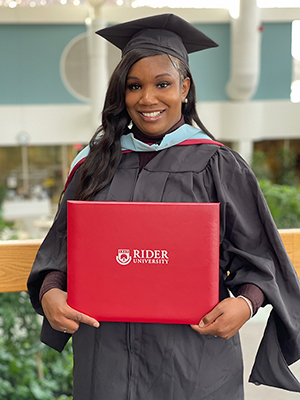 Did you know that NJM's tuition assistance plan is available to all employees with at least 12 months of service? As part of the company's commitment to providing employees with opportunities for continuous learning, the program will reimburse up to $5,250 per employee per year for tuition, books, and related fees, based on the course grade.
We recently spoke with Nichole B., Licensed Account Representative, Personal Lines about her experiences taking advantage of the plan.
What were your initial thoughts about the program?
I was very excited when the company started to offer Tuition Assistance! I always love to learn, and I thought obtaining an additional degree would assist me in my future here at NJM. I applied to Rider University immediately and was accepted into the Master's in Organizational Leadership program.
What were you learning about in your courses?
Among many topics, I learned a lot about Human Resources practices, different styles of leadership and financial planning.
How did you manage the work/study balance?
I didn't find the work/study balance to be an issue. Time management is very important, and I utilized my nights and weekends to focus on school. I did pretty well in my classes even though I worked full-time and attended school full-time.
Did you have a good experience overall?
I love Rider, and the program director was amazing. She was very helpful and knowledgeable, and I am very thankful for her. I also met a few friends at Rider that I still keep in touch with. My classmates were mostly full-time workers like me, so we usually met on weekends to discuss class assignments. Also, the applications through Bright Horizons were easy to complete each semester. If I had questions, assistance was always a phone call away. Also, Rider students have an additional discount through the program which was a bonus.
How long did it take to obtain your degree?
I obtained my master's degree in May of 2020, and formally graduated in 2021 due to the COVID-19 pandemic. While I completed my degree in two years, you can go at your own pace. The end result is very fulfilling, and I do not regret going back to school. In addition to my degree, I gained more knowledge as well as more confidence. I have assisted in different areas within my department and have learned great leadership and organizational skills that I transfer to every task that I am given.
"The NJM tuition reimbursement program is awesome! If you want to gain more knowledge and skills, this program may be perfect for you." - Nichole B.
We hope you will take advantage of this great benefit available at NJM. Learn more about NJM careers and apply to join our team!