Tiger Runs Down Snead, Still Chasing Whitworth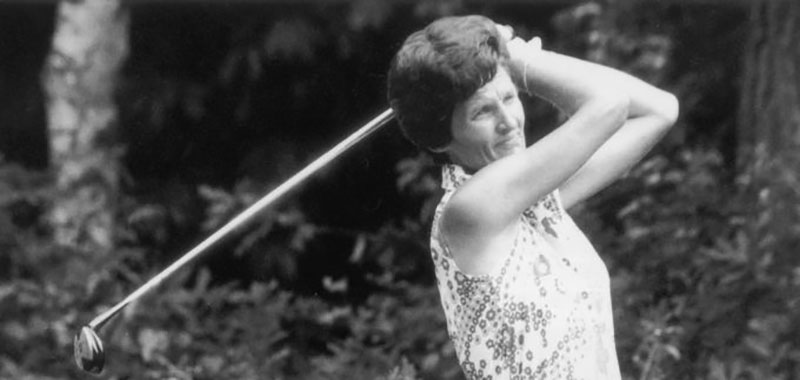 The next time Tiger Woods wins on the PGA Tour, he'll pass Sam Snead for the most career victories in PGA Tour history. It will be his 83rd win, leaving him just five victories shy of matching the all–time leader.
Confused? Don't be. Woods holds the record for male golfers. However, the all–time winningest player in golf history is Kathy Whitworth, who from 1962 — 1985, captured 88 LPGA Tour tournaments.
"When I'm asked how I would like to be remembered," Whitworth has said. "I feel that if people remember me at all, it will be good enough."
While Woods is famous for being tabbed a golf prodigy at age 2, Whitworth came from humbler beginnings.
Whitworth was born in Texas and raised in New Mexico. She started playing golf at age 15 when a group of friends invited her to try it. She struggled so much that she spent hours alone at the driving range, too embarrassed to play with others. Whitworth's game began to take shape and soon she was hitching rides to compete in golf tournaments. In 1957, she won the New Mexico State Women's Championship and defended her title in 1958. With the support of her parents, Whitworth joined the LPGA Tour at age 19.
In 1962, Whitworth won her first LPGA title, capturing the Kelly Girls Open to claim the first-place prize check for $1,300 — which translates into $11,000 today. (The average winner's share in 2020 on the LPGA Tour is $300,000.) She would win one more tournament in 1962, and entering 1965, compiled 11 victories. Whitworth then went on one of most incredible winning stretches in sports history. She won eight times in 1965, nine times in 1966, eight times in 1967, and 10 times in 1968. In seven years of playing professional golf, Whitworth had racked up 46 tournament wins.
Her success was complemented by her willingness to support her peers. Whitworth often put money in the lockers of fellow competitors to help with their travel and boarding costs for the next tournament stop. Her contributions helped sustain many careers and the stability of the LPGA Tour.
Whitworth continued her winning ways over three decades, and in 1981, became the first LPGA Tour player to reach $1 million in earnings. In April of 1982, Whitworth won the CPC Women's Invitational to tie Mickey Wright with 82 career wins. That victory also matched the career number of Snead, who was all–time leader on the PGA Tour.
Less than one month later, Whitworth made history by winning the Lady Michelob by four strokes. She went on to capture five more tournaments, her final coming in 1985 at the United Virginia Bank Classic — the 88th victory of her illustrious career.
Since retiring from golf as an active player, Whitworth has been a great ambassador for the sport. She was president of the LPGA Tour on multiple occasions, and in 1999, started The Kathy Whitworth Invitational. The tournament provides 72 amateur women an opportunity to play on a championship course, promote the love of golf, and learn leadership, sportsmanship, and responsibility. At the same time, revenues generated from the event supports The Boys and Girls Club.
Whitworth is also an active participant with former President George W. Bush in the Wounded Warriors campaign. In addition, she serves as one of the LPGA Golf Ambassadors in The Volunteers of America events.
Perhaps someday Tiger Woods can call himself the all–time winningest player, but until then, that title belongs to Kathy Whitworth.
Did you know? Kathy Whitworth, Sam Snead, and Tiger Woods combined to register 252 victories on the PGA and LPGA Tour. Only two of those wins came on New Jersey golf courses and Whitworth raised both trophies. She won the LPGA Coca–Cola Classic held at Forsgate Country Club in Monroe Twp., NJ in 1977. Whitworth also claimed a second Coca–Cola Classic title in 1981, this time at Ridgewood Country Club in Paramus, NJ. Woods and Snead have never won a golf tournament in the Garden State.
NJM, a leading property and casualty insurer in the Mid-Atlantic region, is proud to partner with the golf community. Contact your agent or broker, visit njm.com/njsga, or call 833-859-1920.