How an Amateur Changed the Course of Golf in the U.S.
Brought to you by NJM Insurance Group, which proudly supports the NJSGA.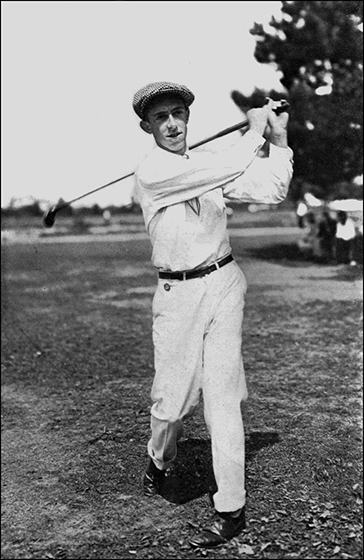 Arnold Palmer, Jack Nicklaus, and Tiger Woods are often credited with the growth and popularity of golf in the United States. Each deserves praise for advancing the game, but none are referred to as the "Father of American Golf." That distinction belongs to Massachusetts native, Francis Ouimet.
Ouimet stunned the golf world by winning the 1913 U.S. Open. He was the first-ever amateur to capture the title, defeating British legend Harry Vardon and Ted Ray in a playoff round. Ouimet's achievement canvased the front page of newspapers across the country and lifted the game of golf into the mainstream of American sports.
The story of Ouimet's historic victory nearly didn't happen. He originally declined the invitation to play because he couldn't get off of work. His employer eventually granted the time, which positioned Ouimet for an improbable performance in his hometown of Brookline, MA.
He arrived at the tournament with his personal caddie, 10-year-old Eddie Lowery.
In 1913, the U.S. Open format was two rounds of play (36 holes) on Thursday and two rounds on Friday. Ouimet rallied in the third round to pull even with Ray and Vardon, the latter being a six-time British Open champion. All three players carded 79s in the final round, forcing an 18-hole playoff on Saturday.
The threesome was deadlocked through the first nine holes, but bogies by Vardon and Ray on holes 10 and 12 gave Ouimet a two-shot lead. He birdied 17 to seal the match and the Father of American Golf was born.
Ouimet was more than a U.S. Open champion. He was beloved by the working class and his achievement changed the perception of American golf during that era — a sport reserved for players with private memberships. Public interest grew participation from 350,000 to 2,000,000 just 10 years after his victory. Ouimet never turned pro and instead chose to continue promoting the amateur game. He was elected to the World Golf Hall of Fame in 1974.
NJM, a leading property and casualty insurer in the Mid-Atlantic region, is proud to partner with the golf community.

Get started with a quote today! Contact your agent or broker, visit njm.com/njsga, or call 833-859-1920
World Golf Hall of Fame, 2019, Francis Ouimet Bio
Retrieved from http://www.worldgolfhalloffame.org/francis-ouimet